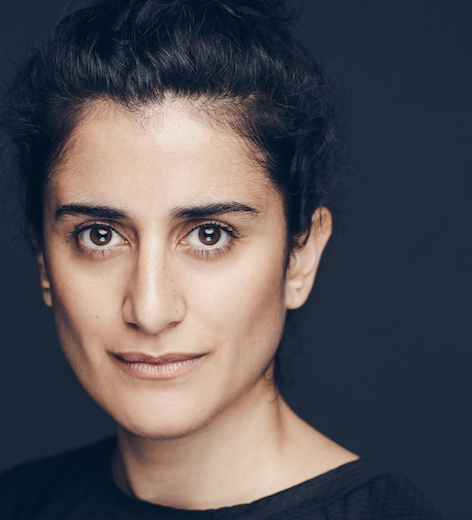 CV
Photos
Biography
Videos
| | |
| --- | --- |
| Playing Age | 25 - 40 |
| Nationality | Danish |
| Based in | Copenhagen, Denmark |
| Education | The Danish National School of Performing Arts, Acting, 2002-2006 |
| Language, fluent | Danish, Turkish, English |
| Language, knowledge | German |
| Singing voice | Soprano |
| Skills | Singing (general),Dance (general) |
| Eye colour | Brown |
| Hair colour | Black |
| Height | 160cm |
| Off-the-shelf clothing size (Top) | S |
| Off-the-shelf clothing size (Bottom) | S |
| Jeans Size | 25-26/30 |
| Shoe size | 36 / 37 |
| Hat size | 58 |
Selected Credits
*
| | | | | |
| --- | --- | --- | --- | --- |
| Film | Role | Year | Director | Company |
| Shorta | Abia | 2020 | Frederik Hvid & Anders Ølholm | Toolbox |
| Danmarks Sønner | Maria | 2019 | Ulaa Salim | Hyæne Film |
| Alting bliver godt igen | Mira | 2009 | Christoffer Boe | Alphaville Produktions |
| | | | | |
| --- | --- | --- | --- | --- |
| Television | Role | Year | Director | Channel |
| Borgen IV | Narcizia Abadi | 2022 | Per Fly | Netflix / Danish National DR1 |
| KOMETERNES JUL | Agnete | 2021 | Ask Hasselbalch | Danish National TV2 |
| HVAD MED MONICA | Nadia | 2021 | | Danish National DR |
| Ambassadøren | Ida | 2019 | Jacob Bitsch | Viaplay |
| Bedrag / Folow The Money III | Sahar | 2019 | Various | Danish National DR |
| Greyzone | Marjan Rajavi | 2018 | Jesper W. Nielsen | Danish National TV2 |
| Broen / The Bridge II | Dharma | 2013 | Henrik Georgsson | Danish National DR |
| | | | | |
| --- | --- | --- | --- | --- |
| Theatre | Role | Year | Director | Stage |
| O'S HISTORIE | Ensemble | 2022 | Husets Teater | Kirsten Astrup, Maria Bordoff |
| MUTTER COURAGE OG HENDES BØRN | Yvette | 2022 | Sigrid Strøm Reibo | The Royal Danish Theatre |
| 2xKGL: Jello shot go Googleren | Mor | 2020 | Sigrid Strøm Reibo | The Royal Danish Theatre |
| Penthesilea - Krig mellem kønnene | Asteria | 2019 | Sigrid Strøm Reibo | The Royal Danish Theatre |
| Aladdin | Guldnarre | 2018 | Christian Lollike | The Royal Danish Theatre |
| Living Dead | Ensemble | 2018 | Christian Lollike | Teater S/H |
| Hår på den | Ensemble | 2016 | Line Paulsen | Grob |
| | |
| --- | --- |
| Awards | Year |
| Best Supporting Actress in a Feature Film - SHORTA - Robert Awards | 2021 |
| | |
Özlem Saglanmak was born 1980 in Copenhagen. She graduated from The Danish National School of Performing Arts 2006. Immediately after her graduation, Özlem became known for giving voice to the puppet Ali in the popular Danish Christmas Calendar "Yallarup Færgeby" in 2007. 
 
On screen, you have been able to see Özlem in series such as "Forbrydelsen", "The Bridge" and "The Legacy". In recent years, we could see Özlem as Marian in the claustrophobic tv-series "Greyzone" and the breathtaking third season of "Follow the Money" as the flirtatious and thoughtful Sahar. In 2020, she starred in the TV- series "The Investigation", "Ambassadøren" as well as in the controversial feature film "SHORTA" where she plays Abia. 
 
On stage, she kick-started her career with the performances "Den Sømand Han Må Lide" at Theater Camp X and in Café Teatret's "Mady.Baby" - two roles that gave her a Talent Reumert Award in 2009.  In 2015, she developed the idea and concept to make the humorous and seductive feminist performance called "Hår på den", which got great reviews and received the "Special Award of the Year" at the prestigious Reumert Awards in 2016. In 2017, Özlem was again nominated for the Reumert Award, this time in the category "Female Ensemble Role of the Year" for her performance in "Sort Vand" at Betty Nansen Theater. Since then, she has been part of a great number of theatre performances at some of the best theatres in Denmark, including at The Royal Danish Theatre, Folketeatret and Teater Grob. Most recently, Özlem has starred in "Mother Courage and her children" at The Royal Danish Theater.
 


To request long showreel, please contact the agency.