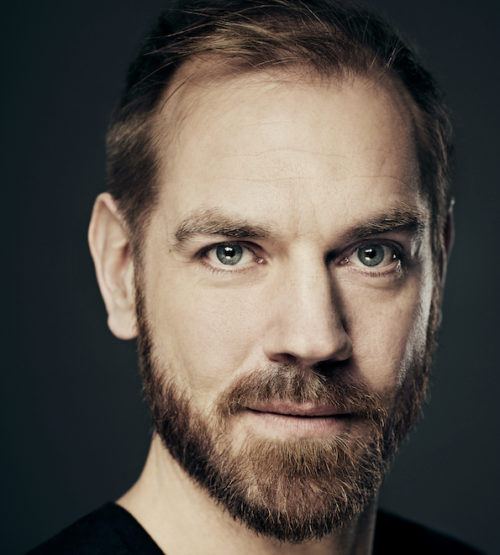 CV
Photos
Biography
Videos
Voice
| | |
| --- | --- |
| Playing Age | 33 - 48 |
| Nationality | Danish |
| Based in | Copenhagen, Denmark |
| Education | National School of Acting, Odense, Denmark, Actor, 2001 - 2005 |
| Language, fluent | Danish, English |
| Language, knowledge | Swedish, Spanish, German |
| Singing voice | Tenor / Baritone |
| Skills | Voice Over + Home Studio,Audio Books,Voice Over,Mask,Dubbing,Audio Drama,Musical Theatre,Radio Presenting,Professional Singer, Football*,Aikido,Medieval Sword Fighting,Swimming,Fishing*,Weight Training,Handball,Sword Fighting,Badminton, Folk Singing,Tenor Baritone,Clarinet,Guitar,Keyboards,Piano,Baritone-Light*,Baritone-High,A Cappella,Guitar-Electric,Rock Singing*,Contemporary Singing*,Cabaret Singing,Choral Singing,Bass (singing),Swing Singing,Blues,Bass Guitar,Dramatic baritone,Singer-Songwriter |
| Driving licence | Car Driving Licence |
| Eye colour | Blue |
| Hair colour | Blond(e) |
| Height | 186cm |
| Weight | 78.01 |
| Off-the-shelf clothing size (Top) | 50 / M |
| Off-the-shelf clothing size (Bottom) | 32/34 |
| Jeans Size | 32/34 |
| Dress shirt (Neck size) | 43 |
| Shoe size | 44 |
| Hat size | 57 |
Selected Credits
*
| | | | | |
| --- | --- | --- | --- | --- |
| Film | Role | Year | Director | Company |
| INTET | Rektor | 2022 | | Film & Lydholm |
| HALLOWEEN | Supporting | 2021 | Philip Th Pedersen | Copenhagen Bombay |
| Holiday | Jens | 2017 | Isabella Eklöts | Pharma Film |
| QEDA / Man Divided | Jens | 2017 | Max Kestner | SF Film |
| Flugten / The Escape | Supporting | 2009 | Katrine Windfeld | Nimbus Film |
| | | | | |
| --- | --- | --- | --- | --- |
| Television | Role | Year | Director | Channel |
| MIN OLDEFAR REDDEDE VERDEN | Hassager | 2021 | | Danish National DR |
| KOMETERENES JUL | Far Laurids | 2021 | | Danish National TV2 |
| Badehotellet I - IX | Morten | 2014 - 2022 | Hans Fabian Wullenweber | Danish National TV 2 |
| Sygeplejeskolen / The New Nurses | Otto | 2018 | Roni Ezra | Danish National TV 2 |
| Herrens Veje II | Louise Friedberg | 2018 | Kaspar Munk | Danish National DR |
| Dicte II | Martin Askov | 2014 | Kasper Barfod | Danish National TV 2 |
| | | | | |
| --- | --- | --- | --- | --- |
| Theatre | Role | Year | Director | Stage |
| MIDT OM NATTEN | Arnold | 2021 | | Tivoli |
| Den evige ild | Lead | 2020 | Mads M. Nielsen | Bellevue Teatret |
| The Sound of Music | Capitan Georg Von Trapp | 2019 | | Amfiteater Hedeland |
| Jeg er sgu min egen | Ensemble | 2018 | Maria Kjærgaard-Sunesen | Nørrebro Teater |
| (B)Romance - En Musical | Frederik | 2018 | Mads M. Nielsen | Det Ny Teater |
| Jordens Søjler | Prior Philip | 2016 | Jacob Schjødt | Østre Gasværk |
| Bang & Betty | Fritz Boesen | 2015 | Christoffer Berdal | Folketeatret |
| Skammerens Datter II | Drakan | 2013 | Frede Guldbrandsen | Øster Gasværk Teater |
| Skammerens Datter | Drakan | 2012 | Frede Guldbrandsen | Øster Gasværk Teater |
| Snowqueen | Kay | 2011 | Mikkel Flyvholm | Zeppelin Theatre |
| | | | | |
| --- | --- | --- | --- | --- |
| Short Film | Role | Year | Director | Company |
| MIT BARN | Fremmed Mand | 2022 | | Space Rocket Nation |
Born in Bogense on December 19, 1980, Morten Aaskov Hemmingsen is a Danish actor. Hemmingsen graduated from the Acting School at Odense Theatre in 2005.

Morten has played a number of leading roles in several musicals, including Midt Om Natten (2021) at Tivoli and on tour, Den Evige Ild (2020) at Bellevue Teatret, The Sound of Music (2019) at Amfiteatret Hedeland, Bromance (2017) at Det Ny Teater, Jordens Søjler (2016), and Skammerens Datter I & II (2012 and 2013) at Østre Gasværk Teater.

He is also known as "Morten" in the 9th season of the TV2 hit Badehotellet since 2013, as well as a major role in DR's series Herrens Veje (2017) and the award-winning feature film Holiday (2018).

In addition, he has played a number of other roles in various films, series, and theatre productions.

Morten also works as a composer and musician, creating music for theatre and film and releasing Danish music under the name Hjertekur.

To request long showreel, please contact the agency.