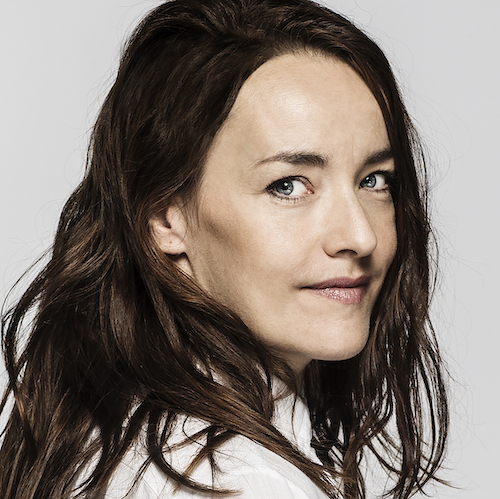 CV
Photos
Biography
Videos
Voice
| | |
| --- | --- |
| Playing Age | 30 - 45 |
| Nationality | Danish |
| Based in | Copenhagen, Denmark |
| Education | The Danish National School of Theatre 1998-2002 |
| Language, fluent | Danish, English |
| Language, knowledge | German, Swedish, Spanish |
| Singing voice | Contralto |
| Skills | |
| Eye colour | Blue |
| Hair colour | Dark Brown |
| Height | 163cm |
| Weight | 64.00 |
| Off-the-shelf clothing size (Top) | 38 / S/M |
| Off-the-shelf clothing size (Bottom) | 40 /M/L |
| Dress shirt (Neck size) | 38 |
| Bra size | 75A |
| Shoe size | 39/40 |
| Hat size | 59 |
Selected Credits
*
| | | | | |
| --- | --- | --- | --- | --- |
| Film | Role | Year | Director | Company |
| Meter i Sekundet | Tone Økolærer | 2023 | Hella Joof | Nordisk Film |
| Fædre og Mødre | Rikke | 2022 | Paprika Steen | Nordisk Film |
| Anti | Supporting | 2016 | Morten BH | Miso Film |
| Flaskepost fra P | Rebecca | 2016 | Hans Petter Moland | Zentropa Film |
| I Lossens Time | Mona | 2013 | Søren Kragh-Jacobsen | Nimbus Film |
| All Inclusive | Sigrid | 2013 | Hella Joof | Happy Ending Film |
| | | | | |
| --- | --- | --- | --- | --- |
| Television | Role | Year | Director | Channel |
| Carmen Curlers | Birthe Windfeld | 2023 | Natasha Arthy | Danish National DR |
| Skruk | Anette | 2022 | Amalie Næsby Fick | Netflix |
| Snow Angels | Maria | 2020 | Anna Zackrisson | Danish National DR |
| Equinox | Cybelle | 2020 | | Netflix |
| Theo & Den magiske talisman | Helene | 2018 | Peter Gornstein / Trine Pill | Danish National DR |
| Follow the Money / Bedrag | Supporting | 2016 | Per Fly | Danish National DR |
| Bedre skilt end aldrig | Line (lead) | 2016 | Hella Joof | Happy Ending Film |
| The Protectors / Livvagterne | Trine | 2009 | Mikkel Serup | Danish National DR |
| | | | | |
| --- | --- | --- | --- | --- |
| Theatre | Role | Year | Director | Stage |
| Leg med ild | Lead | 2019 | Elisa Kragerup | Betty Nansen Teatret |
| En skærsommernatsdrøm | Lead | 2019 | Elisa Kragerup | Betty Nansen Teatret |
| Orlando | Ensemble | 2018 | Elisa Kragerup | Betty Nansen Teatret |
| Ødipus & Antigone | Antigone | 2016 | Elisa Kragerup | The Royal Danish Theatre |
Maria Rossing graduated from the National Theater School of Denmark in 2002, from 2003 and onwards she has been employed at the Danish Royal Theater. Here she has starred in numerous productions, most noticeable in such plays as "Kasimir & Karoline", "A Midsummer Night's Dream ", "Mefisto" and "Figaro's Wedding". She also starred in "Baby" at Aalborg Theater in 2002 and "Love" at Aveny-T in 2005. Back at the Danish Royal Theater she starred as Lady Macbeth in "Macbeth" (2012), here she also starred in "Døden", in "Oedipus & Antigone", and as Ellen in" Den Kroniske Uskyld "all in 2014.

Rossing has starred in a numerous feature films, such as "Temporary Release" and "Daisy Diamond" (both in 2007) "The Hour of the Lynx"(2013), the lead role in "All Inclusive" (2014) "Anti" and "Department Q: A Conspiracy of Faith"(Both in 2016). In 2020 she will be in "The Shadows in My Eyes", a feature film by Ole Bornedal and portraying the leading role in the Swedish TV series "Snow Angels".
On TV she has starred in "The Protectors" (2009-10) on DR1, on TV2 in 2016 she had the leading role in "Splitting up together", which was sold to several countries and re-made by Ellen DeGeneres for the American audience. In 2018, she starred in "Theo & den Magiske Talisman" and most recently she starred in "Follow the Money" (2016-19) on DR1. In 2020 you will see her in the Netflix mini-series "Equinox".

Maria has received a total of three Reumerts. In 2006, she received it as the "female lead of the year" for the role of Grusche in "The Caucasian Chalk Circle". In 2011 she won it again for "Best Performance" for "The Sorrows of Young Werther ", and in 2012 as "best supporting female" for "Madame Bowery". Most recently she received the Lauritzen award for best female lead role in 2019.


To request long showreel, please contact the agency.