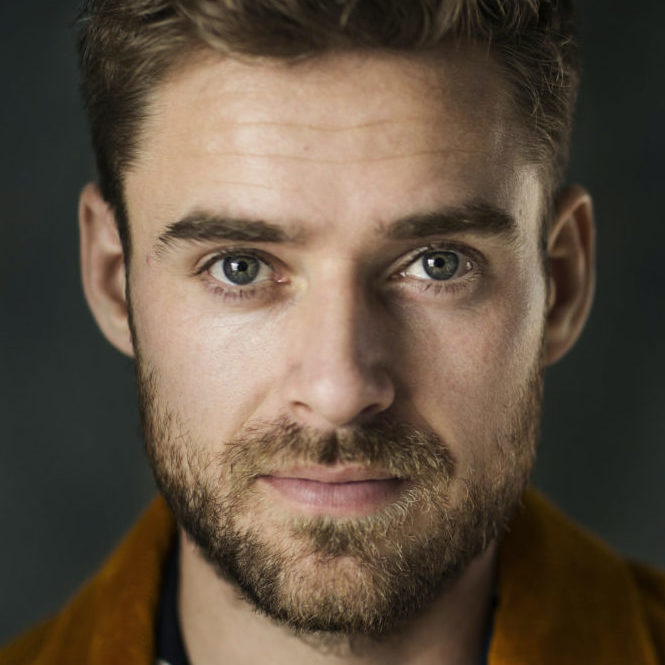 CV
Photos
Biography
Videos
Voice
| | |
| --- | --- |
| Playing Age | 25 - 40 |
| Nationality | Danish |
| Based in | Copenhagen, Denmark |
| Education | William Esper Studio, Acting, 1 year, 2005-2006 The Danish School of Performing Arts, 2006-2009 |
| Language, fluent | Danish, English |
| Language, knowledge | German |
| Singing voice | Tenor, Baritone |
| Skills | Voice Over + Home Studio,Musical Theatre,Voice Acting,Actor-Singer,Dubbing, Tennis, Charleston,Falsetto,Tenor,Ballroom Dancing,Tap,Baritone-High,Jive |
| Eye colour | Blue-Grey |
| Hair colour | Dark Brown |
| Height | 182cm |
| Weight | 76.65 |
| Off-the-shelf clothing size (Top) | L |
| Off-the-shelf clothing size (Bottom) | L |
| Jeans Size | 32-33 |
| Dress shirt (Neck size) | 41 |
| Suit size | 50-52 |
| Shoe size | 43 |
| Hat size | 58 |
Selected Credits
*
| | | | | |
| --- | --- | --- | --- | --- |
| Film | Role | Year | Director | Company |
| Bamse | Supporting | 2022 | Henrik Ruben Genz | Nimbus Film |
| Lykke-Per / A Fortunate Man | Brück | 2018 | Bille August | Nordisk Film |
| Månebrand / Moon Fire | Valdemar (lead) | 2018 | Kasper Juhl | Dæmon Film |
| Ditte Og Louise | Nabo | 2018 | Niclas Bendixen | Nordisk Film |
| Steppeulvene / Itsi Bitsi | Henrik | 2015 | Ole Christian Madsen | Nimbus Film |
| Gudsforladt | Anders | 2015 | Kasper Juhl | Black Frame Cinema |
| | | | | |
| --- | --- | --- | --- | --- |
| Television | Role | Year | Director | Channel |
| Matadorerne | H N Andersen | 2022 | Johannes Fonnesberg/ Giacomo Cambeotto | Danish National DR |
| Mellem Os / Love Story | Kasper (lead) | 2019 | Charlotte Sach Bostrup | Danish National TV2 |
| Lykke-Per / A Fortunate Man | Brück | 2019 | Bille August | Danish National TV2 |
| Mercur | Frederik Van Pallandt | 2017 | Mogen Hagedorn | Danish National TV 2 |
| | | | | |
| --- | --- | --- | --- | --- |
| Theatre | Role | Year | Director | Stage |
| American Idiot | Will | 2021 | Tim Zimmermann | Østre Gasværk |
| Ghost - The Musical | Carl | 2019 | Tobias Larsson | Tivoli a/o |
| In to the Woods | The Baker | 2017 | Peter Langdal | Tivoli |
| Frøken Nitouche | Champlatreux | 2016 | Kaper Wilton | Folketeatret |
| Young Frankenstein | Monster | 2014 | Lynne Formato | Fredericia Teater |
| Disney's Aladdin | Aladdin | 2012-2013 | Lynne Formato | The Royal Opera House Copenhagen |
| Lés Misérables | Marius | 2009 | Lisa Kent | Det Ny Teater |
Johannes Nymark was educated at the The Academy of Musical Theatre, Denmark and since then he has been seen in a wide number of theatre productions as well as feature films and TV-series.

On screen, among others, you have been able to see Johannes in the feature film "Månebrand (Moonfire)" where he plays lead and as Henrik in "Steppeulven (Itsi Bitsi)". Furthermore, he played the role of Brück in Bille August's acclaimed feature film and TV series "Lykke-Per / A Fortunate Man" (2018). Most recently, Johannes starred as male lead in the drama series "Mellem Os", broadcasted on Danish National television network TV2.

On stage, Johannes starred in some of the most prestigious theatres in Denmark, including the lead role of Aladdin in the popular Disney musical, which played at Fredericia Theater and The Royal Danish Theater. Furthermore, he played Balder in Folketeatret's "Valhalla", in Tivoli's "Hairspray" and in Heltemus' productions "Into the Woods" and "GHOST", among others.

To request long showreel, please contact the agency.