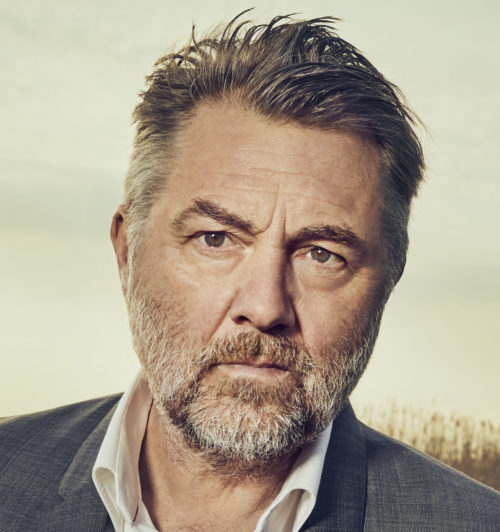 CV
Photos
Biography
Videos
Voice
| | |
| --- | --- |
| Playing Age | 55-65 |
| Nationality | Danish |
| Based in | Copenhagen, Denmark |
| Education | The National School of Acting at Odense Theatre |
| Language, fluent | Danish, English |
| Language, knowledge | German |
| Singing voice | Baritone |
| Skills | |
| Eye colour | Brown |
| Hair colour | Dark Brown |
| Height | 180cm |
| Weight | 82.00 |
| Off-the-shelf clothing size (Top) | 52 / L |
| Off-the-shelf clothing size (Bottom) | 50/52 / 33/33-34 |
| Jeans Size | 33/33-34 |
| Dress shirt (Neck size) | 41 |
| Shoe size | 43 |
| Hat size | 59 |
Selected Credits
*
| | | | | |
| --- | --- | --- | --- | --- |
| Film | Role | Year | Director | Company |
| Meter i Sekundet | Vagn Landmand | 2022 | | Nordisk Film |
| Glaskår | Morfar | 2022 | | Asta Film |
| Nattens Ende | Josep | 2021 | David Adler | Makropol |
| Ser du månen, Daniel | Kjeld | 2019 | Niels Arden Oplev, Anders W. Berthelsen | Toolbox Film Aps |
| Korparna | Carsten | 2017 | Jens Assur | Film and Art Affair |
| 3-2-1 Nu | Søren | 2016 | Barbara Rothenborg | Regner Grasten Film |
| Det Kommer en Dag | Inspektøren | 2015 | Jesper W. Nielsen | Zentropa Film |
| This Life | Marius Fiil | 2012 | Anne Grethe Bjarup Riis | Regner Grasten Film |
| Worlds Apart | Andreas | 2008 | Niels Arden Oplev | Nordisk Film |
| | | | | |
| --- | --- | --- | --- | --- |
| Television | Role | Year | Director | Channel |
| DNA II | Christian Hoxa | 2022 | | Danish National TV2 |
| Badehotellet | Sagfører Bent Ødegaard Andersen | 2022 | Fabian Wullenweber | Danish National TV2 |
| Kastanjemanden | Mairus Larsen | 2021 | Kasper Barfoed | Netflix |
| Sygeplejeskolen I, II, III, IV, V | Bent | 2021 - 2020 | Roni Ezra | Danish National TV2 |
| Chemo Brain II | Morten | 2020 | | Danish National TV2 |
| Selfiestan | Knarke | 2017 | Various | Cosmo |
| The Legacy I, II, III | John | 2013-2016 | Various | Danish National DR1 |
| The Protectors | Jens Ole Vestergaard | 2008-2009 | Various | Danish National DR1 |
| | | | | |
| --- | --- | --- | --- | --- |
| Theatre | Role | Year | Director | Stage |
| Maskerade | Leonard | 2018 | Herbert Fritsch | The Royal Danish Theatre |
| Terror | Christian Lauterbach | 2017 | Christoffer Berdal | The Royal Danish Theatre |
| Stjernefamilien | Mads-Georg | 2017 | Nikoline Werdelin | The Royal Danish Theatre |
| Othello | Jago | 2017 | Elisa Kragerup | The Royal Danish Theatre |
| Riget | Moesgaard | 2017 | Nicolei Faber | The Royal Danish Theatre |
| | | | | |
| --- | --- | --- | --- | --- |
| Short Film | Role | Year | Director | Company |
| Enkemand | Torben | 2022 | | Jalabert Production |
Jens Jørn Spottag started his career as a student of theatre-direction at Aarhus Theater (1974-78), before applying as an actor to Odense School of Theater where he was admitted in 1979 and graduated in 1983. He then worked as a freelancer at various theaters until 1988.
In 1989 he became employed at Aalborg Theater, where he was widely recognized for his many performances and played a large number of major roles, including Jamie in "Long Day's Journey into the Night", Hitler in "Mein Kampf", and Helmer in Ibsens "A Doll's House".

In 1994 he returned to the Copenhagen theaters where he starred in a number of significant plays, including "Cat on a Hot Tin Roof"(1995) at Folketeatret, "Macbeth"(1998) at Gladsaxe Theater and "Copenhagen 2000" at Betty Nansen. In addition, he has participated in "Knives in Hens" at the Café Theater, "Judith" and "Nijinsky -The Death of a Faun" at the Theater Sorte Hest, "Hamlet" at Mungo Park, "Himlen over os" at Edison, "1984" at Betty Nansen, and the title role in "Peer Gynt" at Republique. He also starred in the leading role as the soldier Woyzeck in the drama "Woyzeck" which was hugely successful and brought him and the production on a world tour covering Europe, USA and Japan. Since 2016 he has been permanently affiliated with the Royal Theater where he in 2020 starred in "The Kingdom" and later same year in "Mother Courage and Her Children".

Jens Jørn Spottag made his television debut in 1987 with the series "Een gang strømer…" and has since participated in all notable productions from DR Drama, including the all overshadowing lead as J.C. Jacobsen in "Bryggeren" and starring in successful series such as "Taxi"(1998), "Unit One"(2000), "Edderkoppen"(2000), "The Eagle"(2004-06), "The Killing"(2007), "The Protectors"(2008), "1864"(2013), all three seasons of "The Legacy"(2013-16) and the latest two seasons of "Sygeplejeskolen"(2018).

Over his long careers, he has had numerous roles in short- and feature films such as "Sort Høst"(1993) the Oscar-winning short "Ernst & lyset"(1996), "The Idiots"(1998), "King's Game"(2004), "Worlds Apart"(2008), "Hvidesten Gruppen"(2012), "Speed Walking"(2014) and most recently "Daniel"(2019).

Spottag has received numerous grants and awards. Among others, he has received the Lauritzen Prize, Poul Reumert's Memorial and Travel Grant and Mogens Wieth's Memorial Grant. In 2009, he won a Robert for Best Supporting Male in the movie "World's apart" and in 2016 was made Knight of the Dannebrog.


To request long showreel, please contact the agency.