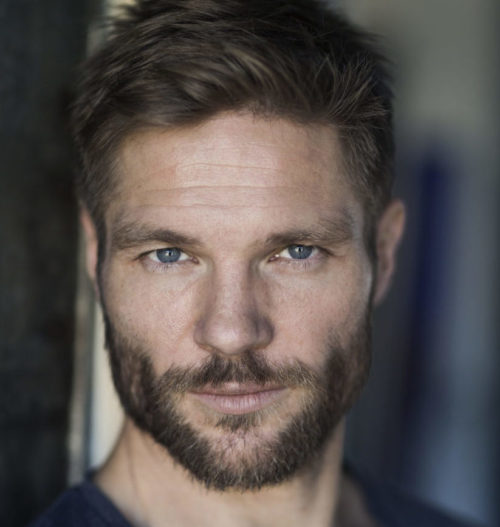 CV
Photos
Biography
Videos
Voice
| | |
| --- | --- |
| Playing Age | 30 - 45 |
| Nationality | Danish |
| Based in | Copenhagen, Denmark |
| Education | The Danish National School of Performing Arts , Acting, 1999 - 2003 |
| Language, fluent | Danish, English, German, Norwegian |
| Language, knowledge | Swedish |
| Skills | Voice Over + Home Studio, Abseiling,Horse-riding,Scuba Diving,Athletics,Kick Boxing,Stage Combat,Karate,Skiing,CrossFit,Boxing, Tenor Baritone,Piano,Ballroom Dancing |
| Driving licence | Car Driving Licence |
| Eye colour | Blue |
| Hair colour | Blond(e)-Dark |
| Height | 175cm |
| Weight | 78.92 |
| Off-the-shelf clothing size (Top) | M/L |
| Jeans Size | 32/32 |
| Dress shirt (Neck size) | 41 |
| Shoe size | 43 |
| Hat size | 60 |
Selected Credits
*
| | | | | |
| --- | --- | --- | --- | --- |
| Film | Role | Year | Director | Company |
| I Love America | Bjørn | 2022 | Lisa Azuelos | Autopilot Enteratinment / Amazon Prime Videos |
| Familien Jul | Officer | 2014 | Henning Fosberg | Pixy Film |
| Next Step | Dennis (lead) | 2007 | Morten Nørgaard | Ursa Major Productions |
| The lost treasure of the knights | Sven | 2007 | Giacomo Campeotto | M&M Productions |
| | | | | |
| --- | --- | --- | --- | --- |
| Short Film | Role | Year | Director | Company |
| Reign | Father (lead) | 2017 | Lasse Tvilum | Jalabert Productions |
| Sekvens | Ib | 2017 | Christoffer Evan Ansel | The Danish National Film School |
| Uncharted: Ambushed, Fan Film Min Lille Pige | Lead | 2014 | Martin Sofiedal | |
| | | | | |
| --- | --- | --- | --- | --- |
| Television | Role | Year | Director | Channel |
| Unbroken | Jakob | 2021 | Andreas Senn | ZDF |
| Badehotellet | Kriminalbetjent Hansen | 2019 | Fabian Wullenweber | Danish National TV2 |
| Mellem Os | August | 2019 | Charlotte Sachs Bostrup | Danish National TV2 |
| Løbeklubben | Patrick (lead) | 2018 | Morten BH | Nimbus Film |
| Nord Nord Mord | Matthis Mikaelson | 2017 | various | ZDF |
| Unter andere umständen | Torben Bengsgen | 2016 | various | ZDF |
| GZSZ | Bo Larsen | 2014 | various | RTL |
| GrossStadrevier | Anders | 2011 | Marcun Weiler | ARD |
| Wallander | Stunts | 2009 | various | STV / Yellow Bird |
| The Eagle | Michael | 2004-2005 | Niels Arden Oplev | Danish National DR1 |
| | | | | |
| --- | --- | --- | --- | --- |
| Theatre | Role | Year | Director | Stage |
| The Bodyguard - The Musical | The Stalker | 2020-2021 | | Tivoli |
| Midt om Natten | Nalle | 2018 | Heinrigh Christiensen | Tivoli |
| Lovesong | Lead | 2015 | | Nepo Teatret |
| Thor | Balder | 2008 | | The Royal Danish Theatre |
David Owe trained graduated at the Danish National School of Performing Arts in 2003. David experienced his debut role in the feature film "Baby" in 2004 but his breakthrough only came the following year (2005) where he, besides his role in "Forsvar" on TV2, had a part of main cast in "The Eagle" on DR1. This led him to Germany where he, over the years has starred in several TV films and series including the series "Großstadtrevier" (2011), "Alarm Für Cobra" (2012) and in "Unter Anderes Umstände" and the crime film "Nord, North, Murder" (2016) and latest in "Unbroken" (2021). In Denmark he has been a part of numerous TV2 series such as "Løbeklubben" (2018), "Badehotellet"(2019) and recently" Mellem Os"(2019).

He starred in the children's and youth film "The Lost Treasure of the Knights Templar II" and personified the Danish voice for the character "Lightning McQueen" from the feature film trilogy "Cars".

In 2022 he airs in the international feature film "I Love America" starring alongside Sophie Marceau.

Besides his acting career David is a trained stuntman and is the proprietor of the Nepo Theater with which he has toured all of Denmark successfully with a variety of performances. Further he has played several roles in the theatre, among others, "Thor" at the Danish Royal Theater. In 2018 he co-starred in the hit musical from Langkjær Entertainment "Midt om Natten" and in 2020 as Stalker in the internationally acclaimed hit musical "The Bodyguard".


To request long showreel, please contact the agency.