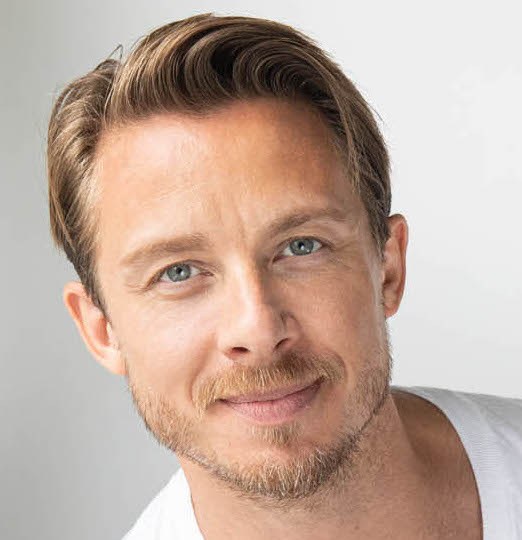 CV
Photos
Biography
Videos
Voice
| | |
| --- | --- |
| Playing Age | 30 - 45 |
| Nationality | Danish |
| Based in | Copenhagen, Denmark |
| Education | National Danish School Of Acting, Actor, 2003 - 2007 |
| Language, fluent | Danish, English |
| Language, knowledge | German |
| Singing voice | Baritone, Tenor |
| Skills | Horse-riding,Scuba Diving,Boxing,Snowboarding, |
| Driving licence | Motorcycle Licence,Car Driving Licence |
| Eye colour | Green |
| Hair colour | Light/Mid Brown |
| Height | 175cm |
| Off-the-shelf clothing size (Top) | S/M |
| Off-the-shelf clothing size (Bottom) | 30/31 |
| Jeans Size | 30/31 |
| Dress shirt (Neck size) | 39 |
| Suit size | 46 or 48 |
| Shoe size | 42,5-43 |
Selected Credits
*
| | | | | |
| --- | --- | --- | --- | --- |
| Film | Role | Year | Director | Company |
| Majas Løfte | Strøm | 2022 | Fabian Wullenweber | Wullenjeweberasz Film |
| The Guardian Angel | Lars Petersen | 2018 | Arto Halonen | Art Films Production |
| Du Forsvinder | Advokat | 2017 | Peter Schønau | Zentropa |
| Flaskepost for P | Læge | 2016 | Hans Petter Moland | Zentropa |
| 1864 | Wilhelm Dinesen | 2015 | Ole Bornedal | Miso Film |
| Summer '92 | Kent Nielsen | 2015 | Kasper Barfoed | Meta Film |
| Brotherhood | Kenneth | 2009 | Nicolo Donato | ASTA Film |
| | | | | |
| --- | --- | --- | --- | --- |
| Television | Role | Year | Director | Channel |
| Den Som Dræber | David | 2020 | | Viaplay |
| Alfa | Lenny | 2020 | Avaz Brothers | Danish National TV2 |
| Advokaten I, II | Markos | 2018 - 2019 | David Berron | Viaplay |
| Bellow The Surface II | Philip Nøgaard | 2018 | Christian E. Christiansen | Kanal 5 |
| Bellow The Surface | Philip Nøgaard | 2017 | Kasper Barfoed | Kanal 5 |
| Follow The Money | Johan | 2016 | Per Fly | Danish National DR 1 |
| 1864 - mini series | Wilhelm Dinesen | 2014 | Ole Bornedal | Danish National DR 1 |
| | | | | |
| --- | --- | --- | --- | --- |
| Theatre | Role | Year | Director | Stage |
| The Bodyguard - The Musical | Frank Farmer | 2022 | | Tivoli |
| | |
| --- | --- |
| Awards | Year |
| Nominated for C21's International Drama Awards 2019 as Best Individual Performance in Drama for "BELOW THE SURFACE" | 2019 |
| Winner of the Golden Nymph Award for Best Outstanding Actor in "Bellow the Surface" | 2018 |
Johannes Lassen (1979) graduated from The Academy of Music and Dramatic Arts, 2007 in Odense where after he immediately landed very good roles on various theatre stages in Denmark. He portrayed Wilhelm Dinesen in Ole Bornedal's highly anticipated drama-series "1864" on DR1 in autumn 2014 and a film version was released in Danish cinemas early 2015. His other film credits include Nicolo Donato's critically acclaimed "Brotherhood" from 2010 and the award winning youth drama "Rebounce" by Heidi Maria Faist from 2011.

He portrayed the lead in the Danish TV-drama – "Below the Surface", for both seasons – each of 10 episodes, shown all around the world and this performance got him The Golden Nymph Award 2018 as the best male lead in a TV-series. Johannes was nominated for his role in the 2rd season for C21 International Performance Award.

Johannes did a role alongside his friend Pilou Asbæk and Josh Lucas in the feature film "The Guardian Angel", 2018 by the award winning Finnish Director Arto Halonen. In 2017 he landed a great role in the Swedish Viaplay TV-drama – "The Lawyer", a role he carried over with him to the second season of this show, which will air in early 2020. Johannes can be seen later in the Danish TV show "Grow" which also airs early 2020 on TV2.

Johannes Lassen's stage work includes roles in both classical and contemporary plays, such as "Jesus & Josefine" (2007) and "Treasure Island" (2008) at Odense Theatre, "Kærlighed og menneskerester" at Theatre Momentum (2007) and "Otto er et Næsehorn" (2008), "Odysseus" (2009) at Folketeatret in Copenhagen and furthermore in "BCNU" (Be seeing You) at Theatre Grob (2011). In 2020 his stage work will provide us with his take on Frank Farmer in the internationally acclaimed musical "The Bodyguard".

To request long showreel, please contact the agency.